Nobody ever wants to be involved in an automobile accident, or for that matter, experience anything wrong with their car at all. But car troubles are bound to take place at some point- and should this unfortunate fate befall you, the best thing you can do is place your car into the trust of industry experts, and get your car back to its pre-accident condition as quickly as possible.
That's where Better Calibrations enters the equation. If you're in the Charleston, SC metropolitan area and you need a car to be calibrated, Better Calibrations is here to help.
Better Calibrations- A Division Of Better Collision
Some people might say that they're experts in a given field, but when it comes to cars, it's our livelihood. Better Calibrations is owned by the local Charleston body shop Better Collision. Everyone on our team from our CEO to our mechanics knows cars inside and out, which means that when you trust Better Calibrations with your car, you are placing your trust in the hands of the most qualified people in the Southeast.
Diagnostic Scan Before Disassembly
Identify ADAS systems on each vehicle

Identify what ADAS Systems were affected by the accident

Identify what ADAS Systems will be affected by the repair process
Assess Damage
Repair using OEM Procedures
Wheel Alignment
ADAS calibration is the last and final step during the repair process. Wheels must be properly aligned and inspected for damage before performing any calibration.
Perform Calibration
This is the most important and vital step
Validate Ride Height:
Ensure Level Floor
Correct Tire Pressure
Fuel Level as specified by OEM
Complete a Precise Calibration
Complete Post Calibration Final Health Scan
Health Check
Validate that the calibration was performed successfully.
schedule your appointment
Advanced Driver Assistance System
Advanced Driver-Assistance System (ADAS) is technology incorporated into vehicles to assist drivers with driving and parking functions, which in turn increase safety, improve your driving experience, and minimize human error.  This can include both safety and adaptive features.
Safety features are added to decrease chances of collision by alerting the driver to issues or taking control of the vehicle if necessary.
Adaptive features are added to improve convenience while driving. This includes adaptive cruise control, satellite navigation and traffic warnings, park assist, and more.
Hover over each + icon to learn more ABOUT ADAS TECHNOLOGIES.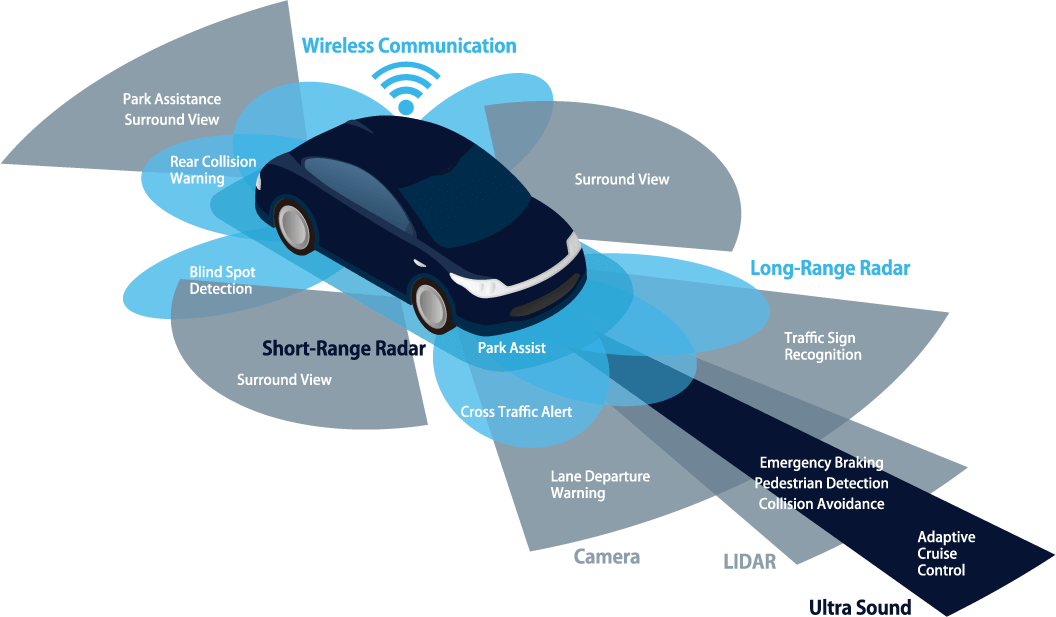 Blind Spot Monitor
Sensors in the rear bumper and displays warning icons in both side mirrors
Automatic Emergency Braking
Forward facing ADAS camera or radar detects crash risks and automatically applies the vehicle's brakes.
Pedestrian Detection
Detects an imminent collision with a pedestrian and autonomously applies the brakes or alerts the driver.
Adaptive Cruise Control
Cruise control setting that will slow down and pace a vehicle with the one in front of it.
Traffic Sign Recognition
Video cameras detect some types of road signs and display them on a dashboard.
Lane Departure Warning
Provides drivers with an alert when they drift out of their lane unintentionally.
Parking Assist
Takes control over the vehicle's steering, acceleration, brakes and gear positions to maneuver the car (with the driver at the wheel) into a parking spot. Variations include parallel and perpendicular parking.
Surround View Camera
Shows the close surroundings of some or all sides of the vehicle. Only while stopped and doing low-speed maneuvers.
Calibrating Cars the Right Way
When something goes wrong with a car- whether the car's lasers get messed up, the engine doesn't appear to be working properly, or the brakes aren't functioning properly- there is a very specific and precise procedure to fix the problem that needs to be carefully followed down to the last detail. It's human nature for both the car's owner and the technician to want to fix the car's lasers as fast as possible, and efficiency certainly is important. But it should not get in the way of maintaining the integrity of the calibrating procedure.
To correctly calibrate a car requires nothing less than optimal circumstances. The cars must be on certain floors, in completely open floor space, with an exact amount of lighting, and very specific tools are required to do the job right. It is an extremely precise process that our technicians go through to calibrate a car, and it cannot be compromised under any circumstances.
At the same time, our years of experience in calibrating cars have given us a familiarity with the process that allows us to complete the calibration of your car in a highly efficient manner. By asking our expert technicians to fix your car's calibration, you are following the path of countless other drivers in the Southeast who had their cars calibrated quickly- and most importantly- correctly.
That's the difference you get when you have Better Calibrations work on calibrating your car, whether it's the lasers, wheels, or anything in between that needs to be fixed. You'll get it done correctly, the first time. The right way. The Better Calibrations way.